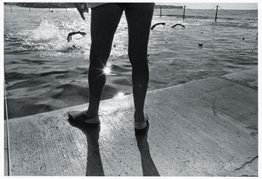 At Play
These photographs were taken in Sydney and country New South Wales in 2002. They are of people at play.
Play is slightly different to sport or relaxing. It is something which involves creating an imaginary world or parameter. In play you get carried away and lose yourself. People and animals often play for the sheer joy and abandon of the experience.
Play is also be an apt metaphor for the creative process or for falling in love, because you have to "play" to really explore something or someone; you have to take the risk of not knowing before you can begin to know.