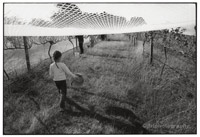 Il Destino
Twelve Italian Australian families
Presented with the assistance of the Consulate General of Italy, Sydney, at Point Light Gallery, Surry Hills (9 November to 17 December 2006).
Il Destino is an exhibition of photographs of twelve Italian Australian famillies. The photos document the families going about the business of living. Some record the cultural connections the different family and community members still have with Italy. Others are more intimate, recording private moments in the midst of daily life.
The twelve families represent the different regions from which Italian migrants originated, from the far north of the Italian penisula to Sicily in the south. In total, the photos communicate much about Italian Australian life. They also tell a universal story about people and the things they do together: the cooking, the celebrating of rituals, the working and the dreaming.
This exhibition was opened in conjunction with the launch of the book Qui e Lì – Here and There: A photo essay on the life and hometowns of Italian Australians.