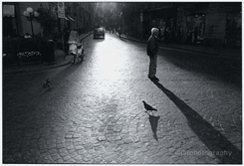 Art Prints
Each photograph is one of a signed, limited edition of 20 prints.
They are available as 8"x10" image printed on 12"x16" fibre paper.
MATTED & Mounted prints: $550 each + postage.
Smaller or larger prints are available on request.
To order an art print, request information, view a folio in person, or to obtain permission to loan, purchase, reproduce or publish Jane Burton Taylor's work in any media, please send Jane an email or call (+ 61 2) 9955 5807 or mobile 0412 154 709.
Please note that the photographs on this website are the copyright of the photographer and are subject to Australian and international Copyright Law. They may not be reproduced without permission.